By Garrett Reim13 February 2020
For US Marine Corps (USMC) F-35B demo pilot Captain Taylor Zehrung, and US Air Force (USAF) F-22 demo pilot Major Joshua Gunderson, aggressive flight manoeuvres, such as the ones displayed at the Singapore air show, are just part of the everyday job of combat aviation.
Both pilots say what was asked of them could be performed by any members of their squadrons.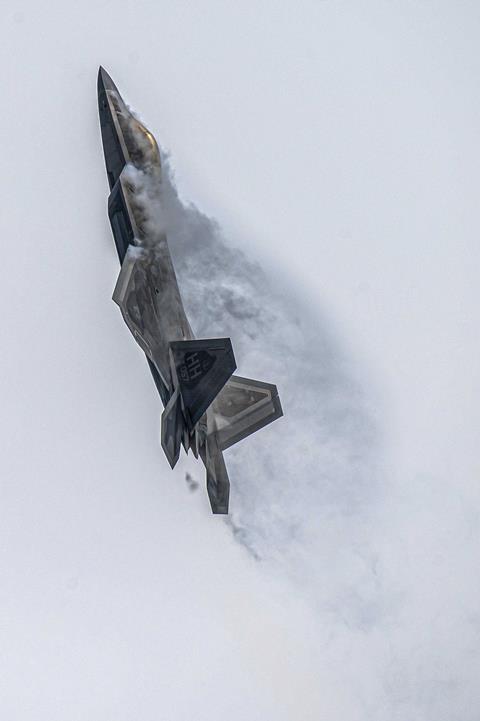 "Our demos are designed to demonstrate what the aircraft can do in a combat scenario," says Gunderson. "Everything is very specific in terms of airspeed, altitudes, [and] parameters, because I'm making sure it's repeatable and executable and safe. But you can take any pilot in the F-22 community, give them a couple rides in this and they'll be proficient at doing it."
In particular, the pilots say the manoeuvres are something that are practiced regularly in combat exercises.
"The minimum radius turn we definitely use in basic fighter manoeuvres against other aircraft," says Gunderson. "What's great about the F-22 is our thrust out of the back end. The flight control computers allow us to turn very quickly in a very tight space, which gives us an advantage in the fight."
The Lockheed Martin F-22 has two Pratt & Whitney F119 engines which each produce 35,000lb-thrust (156kN).
Gunderson also highlighted the J-Turn, a manoeuvre where the F-22 rockets upward at a high angle of attack, stalls and then pivots in a new direction while falling back to earth using its fly-by-wire flight controls and thrust-vectored jet engines.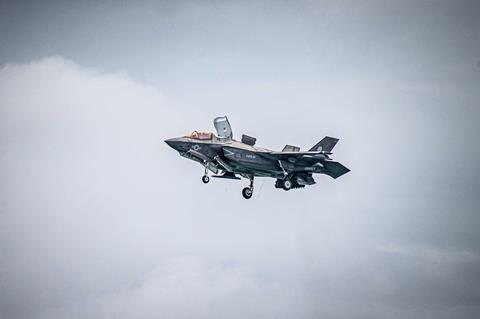 "That'd be an example where you can quickly change your nose position, whether you want to get weapons on something, or just continue to get an offensive position really quickly," says Gunderson.
For F-35B pilot Zehrung learning short-take-off-and-vertical-landing (STOVL) manoeuvres, including the in-flight hover, took some getting used to. The F-35B can hover and complete STOVL manoeuvres using a shaft-driven lift fan system in its body and thrust-vectored tail exhaust.
"The very first time I ever did it, it was very weird being in fighter jet and not moving," he says. "But it's become pretty normal now."
F-22 pilot Gunderson is the USAF F-22 Demonstration Team commander and is based at Joint Base Langley-Eustis in Hampton, Virginia. F-22 pilots perform aerial displays as part of two-year rotations.
F-35B pilot Zehrung is part of the USMC's F-35B Lighting II aerial demonstration team, which is part of attack squadron 121 at Marine Corps Air Station Iwakuni, Japan. F-35B pilots are asked to fly at air shows on an ad hoc basis.
https://atctower.com/wp-content/uploads/2020/02/MIDWEST-2.jpg
1172
780
Brian Sullivan
https://atctower.com/wp-content/uploads/2017/10/MidwestATC_Logo_Web_Header.png
Brian Sullivan
2020-02-13 11:43:36
2020-02-13 11:43:36
For F-22 and F-35 demo pilots, aggressive manoeuvres are just part of the job